Are you cleaning out that attic or back room?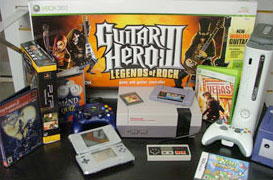 Bring all your unwanted music, movies, & video games to PrePlayed where you can get cash or trade them in on new CDs, DVDs, or video games. We will gladly look through your gently used CDs, DVDs, Blu-Ray, video games, and iPods to and offer to purchase the ones we can use. Read through the following list to see if you have any qualifying items to sell to PrePlayed.
We would love to buy your items! In order  to do so, they must meet the following criteria:
Disc(s) must be in working condition
Must have all original artwork and cases
Need to be original discs (no burned copies)
All sellers must be the actual owner of items sold
Sellers can only sell once a day
WE DO NOT BUY :  PC / computer games / software / VHS
Purchase prices for:
Item
DVDs
Video Games
CDs
Up to:
$7
$20
$5
Average:
$0.25 – $2 *
$1 – $5 *
$0.25 – $1 *
* Subject to condition, stock, and current retail price.
We are currently accepting video games & systems for:
Playstation 1 (PS1)*
Playstation 2 (PS2)
Playstation 3 (PS3)
Playstation 4 (PS4)
Playstation Portable (PSP)
PS Vita
XBOX**
XBOX 360
XBOX ONE
Nintendo
Super Nintendo
Nintendo 64
Nintendo Game Cube
Nintendo Wii
Nintendo WiiU
Nintendo DS
Nintendo 3DS
Nintendo Switch
Sega Genesis
Game Boy Advance
*Games & Memory Cards only
**Games only
All video game systems must be in good working condition and have all appropriate cords, chargers, and controllers.